Source: https://www.theguardian.com/football/blog/2014/sep/12/grassroots-football-reminders-to-parents
This weekend will see tens of thousands of kids across the country kicking off their season. Before parents start barking from the touchline, one coach offers up some home truths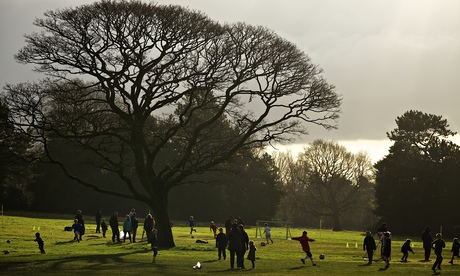 The international break is over, the millionaires are back ensconced in their clubs – and around the country tens of thousands of children are ready to kick off the season at the other end of the footballing spectrum: the grassroots. One coach, who has asked to remain anonymous, offers up 10 pre-season home truths to parents.
1) Quiet, please
"Noooo! Not there. Gordon, bloody well get rid of it … you can't play about with your spreadsheet there. Just email it. NOW! Remember, nothing fancy. Just get rid." Does your boss stand menacingly near your desk shouting at you when you're doing your job? If he does, do you enjoy it, feel inspired, creative and ready to perform at your best? No, thought not. With this in mind, I'd dearly love it if you could refrain from roaring from the sidelines at little Billy when he's trying to have fun with his friends. He's only eight. It really doesn't help. Ask him if you don't believe me.
2) I'm a volunteer
I know the annual club registration fee has gone up a tenner. And yes, I am wearing new boots. But I can assure you the two are not linked. When I'm not doing my job – yes, coaching is but a (mostly) joyful hobby for me – I am simply a willing, unpaid volunteer at an increasingly hard-pressed grassroots football club committed to giving children of all abilities the chance to play – not a one-man footballing equivalent of Serco out to inveigle a handsome profit from cruelly inflating the footballing dreams of your child and her friends.
3) I'm not a magician
How can I put this? Just because you stump up the registration fee all too readily (after all, as you say, it's only a fraction of the annual fees at the prep school) that doesn't mean you've bought the right to mess the coach and the other players about by turning up with little Gianfranco to training or matches whenever you feel like it. My training sessions are planned carefully; the arrival activities, challenges, targets and games are not merely a series of random events; they're actually planned. And, without going all educationalist on you, I'm a big believer in constructivist learning. Each session is linked thematically to build on the players' knowledge, understanding and skills in a thoughtful fashion, always with the goal of developing the players' skills across the FA's "four corner model": technical, physical, psychological and social. All of this just might explain why, on several occasions, you've complained to me that Gianfranco isn't feeling "a vital part of the team" or perhaps improving his skills quite as much as you'd hoped. I'll repeat: I AM NOT A MAGICIAN! HE NEEDS TO PRACTICE. That means turning up every week, not just when you feel like it.
4) A chip off the old block
I'm really sorry to tell you this but your child's clearly got your gene for insufficiently honed coordination. With you it's getting your basic timing, application and demeanour in order (do you ever – I mean ever – even so much as glance at my numerous emails and texts?); with him it's ABCs, proprioception and ball mastery (which I'm working on with him all the time). So, as mentioned above, it's a teeny bit unrealistic to expect me to transform him osmotically into Lionel Messi after half a dozen sessions (only half of which he actually attended, all the time wearing hideously unsuitable running trainers and swigging from a can of Monster the size of his leg). So let's strike a deal: you agree to reply to my emails and make sure your son turns up to training suitably attired and not caffeined up and I'll continue coaching him (even though he turns like the QE2).
5) A winning mentality
I know little John's a born winner. He clearly takes after you doesn't he? And I know he was named after your role model. As was his little sister, Terri. You've told me that. A few times actually. I also appreciate their uncle played a few games for Wealdstone reserves in the season they cruised to the Gola league title back in the day. So you clearly know your football. It's just, well, this is coaching, not playing. Or watching. And when we're dealing with children – not adults – we have to think carefully about whether we demand that the players show you how much they really want to win the league – and, of course, the big shiny trophy that goes with it. Overemphasis on what us coaches call extrinsic motivation (pressure to win a match, the threat of punishment etc as opposed to intrinsic motivation) can actually have a negative impact on the child's motivation and self-esteem. Some studies link too much external pressure to stress, burnout and giving up the game, especially among players in the professional academies. The FA also surveyed thousands of kids playing grassroots football a couple of years ago and found the most common reasons for playing were, not winning the league or trophies, but trying their hardest, because it's fun, it's a great game and they love it.
So I'm not saying regaling children with that infamous winner's aphorism "show me a good loser and I'll show you a loser" is always wrong. Actually, yes I am. Again, just keep quiet. Please.
6) A valuable lesson
"Why on Earth did you play him there? He can't play there. He's not a defender. He's a forward; he only wants to play as a striker; he'll get you 30 goals a season from there." But he's only seven years old. Your son's clearly good at maths too – I suppose it's all that counting practice keeping track of his goals tally – but would you instruct the teachers in his primary school to excuse him from literacy lessons so he can focus on becoming a mathematician instead? No, so give him a chance to breathe, let him develop new skills and you'll be surprised at how good he can become. In relation to point five, I really want him to be successful too. A winner, yes. But not just in an under 9s match where, frankly, he's simply much faster, stronger and older than most of the other players. (The wonders of a September birthday.) But this won't necessarily last. I'm trying to provide the players with the full range of skills necessary to win when they're 15, 18 and 21.
7) Fancy a promotion?
You know when I say I'm not interested in league tables … I actually really, truly mean it. It creates a race to the bottom with 10-year-olds, where long-term player development is relegated at the expense of hoofball, ranting parents and pressure to win at all costs. And no, I don't see it as an infringement of our human rights that the FA is finally scrapping them for all under-10s and younger from this season. But hey, I do find it intriguing the way you and Cristiano's dad, Eric, tried manfully last season to keep track of all the other teams' results to work out your own league tables. I sort of appreciate your initiative guys but did you really need to try to publish it on Facebook? Don't get me wrong though: I'm with them on the league tables but I'm no apologist for the FA. I see the new Wembley as a citadel of profligacy as much as the next person. And I'm the one practically remortgaging the house to complete my coaching licence CPD each year by shelling out for coaching courses. But you know, there's only so much we can do to change the FA. Back here at the grassroots, however, I'd love it if you could direct your efforts towards something a little more meaningful. Like, say, one of the many admin/committee roles at the club: there's communications, secretary, treasurer, welfare officer (actually, maybe leave this one for someone else), pitch coordinator – take your pick. Or you could just volunteer to fetch and carry equipment to and from training. Or what about linesman once we start playing offside? I'm not picky. Hell, we can't afford to be choosy in grassroots football.
8) Why the big rush?
And I know you're desperate to move your child up from the local pro club's community £5 a session gravy-train dream-building "development" sessions to the intermediate/advanced/demi-semi-elite "beyond-development" squad and eventually get the golden ticket – a slot in the full-blown junior millionaire elite "over-developed" squad because it's YOUR lifelong ambition – yeah, I get all that. And you want it all done before he's in secondary school. But can you please explain why? While you're thinking about it, please try not to relive your life through your child.
9) This is serious
Let me say this again: I'm not a childminder; I'm a qualified coach. Experienced too. Keen and passionately interested in helping the children fall in love with the game and reach their potential in a safe, fun-filled environment. Got that. Good. Now please let me let them play. They're children. That's what they love to do. They take play very, very seriously.
10) Bring on the dream team
Let's end on a positive note. You know that little schtick I do occasionally about the importance of fostering a growth mindset with the players ("mistakes are learning opportunities" etc)? Well, I genuinely believe we can be the living embodiment of all of this. Yes, you and me. Parents & Coach United. We'll both make mistakes. Even you, honest. But imagine the impact we could have together if all parents trusted the coach, backed him or her up and reassured your child by simply saying to them after a match: "I loved watching you play. It was great fun." This would allow them to move on from mistakes and bask in the warm, character-enhancing glow brought about by riding on the physically, technically, socially and psychologically challenging rollercoaster that is playing a competitive team sport; if you could just remind yourself that we both want them to become the best player they can possibly be, we could create an environment for them to succeed unencumbered by a crippling fear of failure. Just try it. Go on, please. It might be tough at first but just, you know, do your best.